One of the most significant and extensively observed holidays in India and among the Indian diaspora is Diwali, sometimes called Deepavali. Though the main celebration takes place on the third day, it usually lasts for five days and is often referred to as the "Festival of Lights". Depending on the Hindu lunar calendar. Diwali, a festival celebrated for its rich cuisine and sweets, calls for extreme planning and control. 
The festival has diverse cultural and religious connotations in different parts of India, but the victory of good over evil and light over darkness unites us all, likewise, it is important to conquer diabetes (evil) over health (good). Among the main features and customs of Diwali are lighting diyas, fireworks and crackers, rangoli, cleaning and decoration, pujas, gifts, feasting on sweets, new clothes, and family reunions. 
Diwali is a time for happiness, family time, and introspection and has immense cultural, religious, and social significance. People from all backgrounds and religions come together to celebrate this lovely festival, which crosses boundaries of religion and geography.
It can be difficult to control blood sugar levels while consuming sweets during Diwali, but it is doable with cautious preparation and moderation. Also one needs to remember that we follow a healthy lifestyle throughout the year but unfortunately this one day of festivities can undo all the good work. As an experienced Dietitian at The London Obesity & Endocrine Clinic, I am going to discuss how you could enjoy this Diwali with your family and friends and at the same time not gain weight. 


10 Tips to conquer your blood sugar levels
Select Carefully – Select confections with lesser sugar and carbohydrates. There are sweets that are sugar-free or suitable for diabetics. Sweets made with stevia or other natural sweeteners are also an option. In our specialist clinic, we recommend using sweeteners in moderation only.


Make A Meal Schedule – Make a meal plan in advance. Plan your meals ahead of time and make an effort to follow a regular eating schedule. You can successfully control your blood sugar by planning ahead.


Select Foods with a Low Glycaemic Index and Fibre rich – Glycaemic index is a measure of how quickly a food can make your blood sugar rise. Reduce the amount of refined carbohydrates you eat, such as white bread, white rice, and sugary snacks. These may result in sharp increases in blood sugar. Quick rise in blood sugar may increase your hunger. Whole grains and vegetables, which are high in fibre, can help control blood sugar levels. Think about adding them in your meals. Please don't always go for sweets in your main course and dinner, include a lot of vegetables and pulses too.


Portion Control – When eating sweets, keep your portion sizes in check. You can enjoy the flavours without experiencing a sharp rise in blood sugar by eating smaller portions and combining it with high protein food items like Channa, cowpeas, rajmah sandals. This helps prevent quick absorption of blood sugar from the intestine. Be mindful of the food you're consuming. You can manage your portions by eating mindfully and taking time to enjoy every mouthful.


Select Colourful Fruits – Savour fruits such as apples, guava, sweet lime, orange, lemon and berries. This helps not only to fill you up but also reduces your craving for sweets.


Watch Out for Hidden Sugars – Be mindful of sugars that are concealed in foods and sauces. To find added sugars in food, read the labels. Don't get misled by advertisements and labels. For example if a product says low fat, it may be that the sugar content is high to make it edible.


Be Well Hydrated – Water consumption is crucial. It can assist in regulating your hunger and avoiding overindulging. Blood sugar levels can also be impacted by dehydration. During Diwali, we are so busy with friends and family that we forget to hydrate ourselves. The rule for this year's Diwali for you is to carry a water bottle wherever you go. Keep sipping water.


Food Swap – Offer and savour healthier substitutes for customary desserts. Make sugar-free or low-carb desserts at home, for instance. Please see my recipes below.


Reduce Sitting Time – Exercise will assist in controlling your blood sugar. After eating, a quick stroll can be helpful. Do not sit at any one place for more than 15 minutes at a time. If you really to need to continue, just stand up for a few seconds and sit down.


Knowing When to Refuse – It's acceptable to gracefully turn down too many sweets that well-intentioned hosts offer. Your well-being comes first. Learn to say 'No'. Whenever you say no, you should always give a good reason for that. For example you could say 'it looks so delicious but i'm full now, can you please pack it for me to enjoy it later'. 


Recall that controlling your blood sugar during Diwali is crucial for your long-term health, even though it might necessitate some sacrifices and self-control. Always seek the counsel and direction of a healthcare professional.


Making our Favourite Sweets Healthier
Making some simple substitutions can help us enjoy our favourite sweet treats during Diwali whilst being mindful of our blood sugar levels. See below our healthy versions of traditional sweets:
Oats Ladoo
Oats are high in soluble fibre and rich in β-Glucan, it helps in reducing postprandial glucose and insulin responses, improve insulin sensitivity, maintain glycaemic control, and regulate blood lipids.
Ingredients:
Rolled oats – 1 cup

Cinnamon – ¼ tsp

Peanuts – ¼ cup

Pumpkin seeds – ¼ cup

Cardamon – ¼ tsp

Jaggery – ¼ cup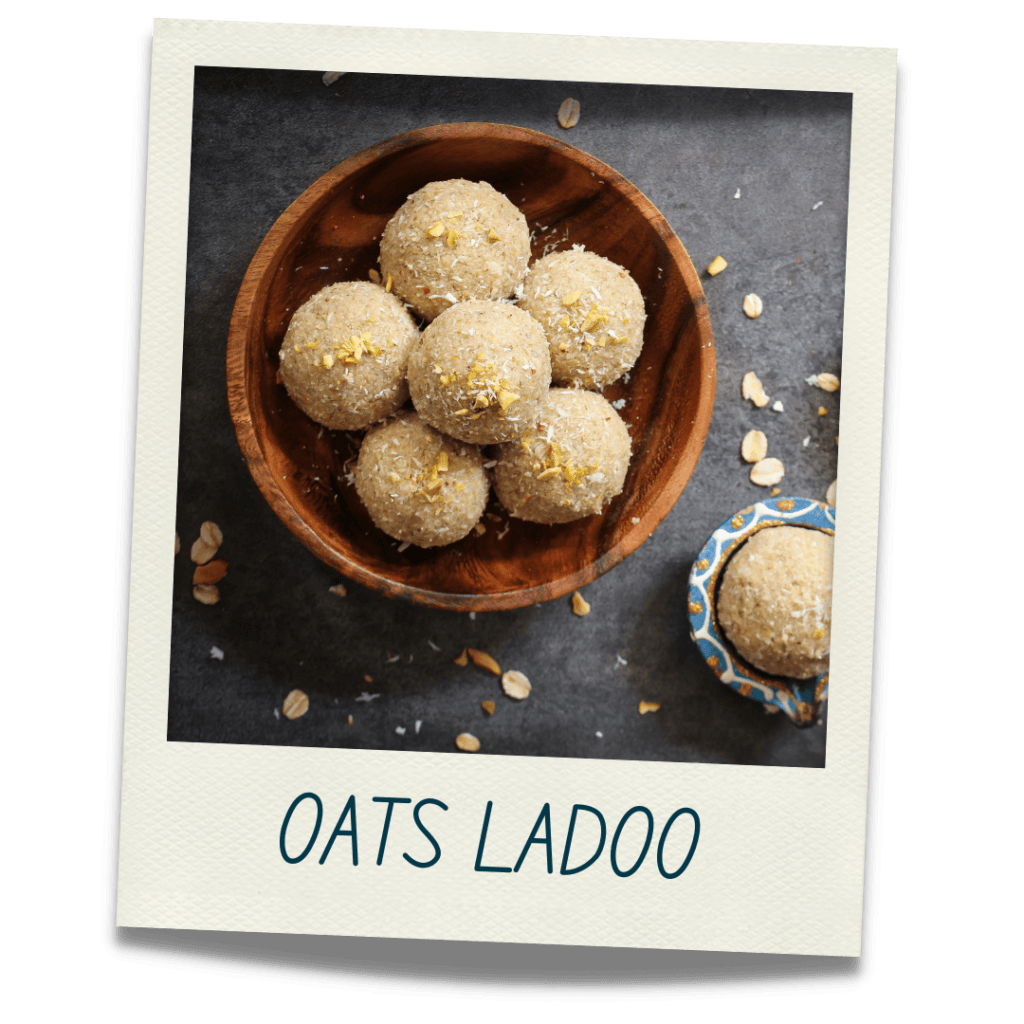 Add 1 cup of rolled oats to a pan and toast them for 2-3 minutes. Add ¼ tsp of cinnamon to the rolled oats. 


Add ¼ cup of roasted skinned peanuts and ¼ cup toasted pumpkin seeds. 


To make oats laddu without ghee use traditional jaggery. The store-bought jaggery has no moisture like the traditional jaggery so using ghee is essential. 


Blend the roasted oats into a fine powder. Add ¼ tsp of ground cardamom.


To the blended powder, add toasted pumpkin seeds and peanuts. 


Add the ¼ cup jaggery and grind to a fine powder. Make sure the oils are released from the seeds and press down the powder to see if it is sticky and holds the shape. 


Take small portions of the powder to your palm and shape them into balls. 



Store the oats ladoo in a tighter jar container.
Ragi Ladoo
Ragi has been shown to contain significant levels of dietary fibre, which helps to slow down the release of glucose. Additionally, the high concentration of phytochemicals in ragi helps to prevent cell damage.
Ingredients:
Rolled oats – 1 cup

Peanuts – ¼ cup

Coconut – ¼ cup

Almonds – ¼ cup

Sesame – 1 tbsp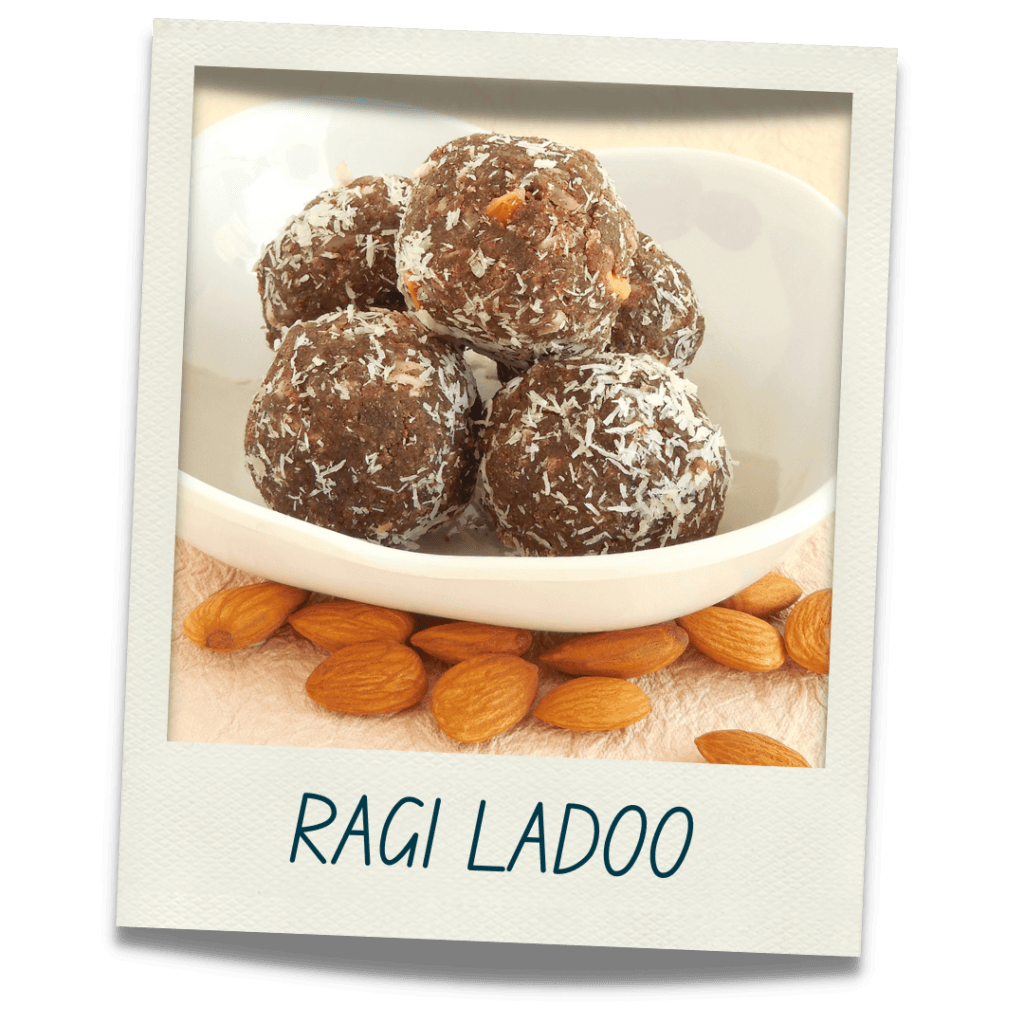 Stir 1 cup of ragi flour in a pan. Dry roast peanuts, dried coconut and almonds or sesame seeds. 


Grate jaggery and set aside. In a blender add peanuts, sesame seeds, coconut and cardamoms. 


Mix all ingredients and add them to a grinder jar. Grind it until oil oozes out from the seeds. 



Take small portions of this mix and shape them. Store them in an airtight jar.
Paneer Kheer
Paneer is a diabetic-friendly food due to its low carbohydrate content and high protein. It is a good source of calcium and other nutrients like Vitamin B12, phosphorus and selenium. 
Ingredients:
Paneer – ⅛ cup

Milk – ½ cup

Sugar substitute – ⅓ tsp

Cardamom powder – To preference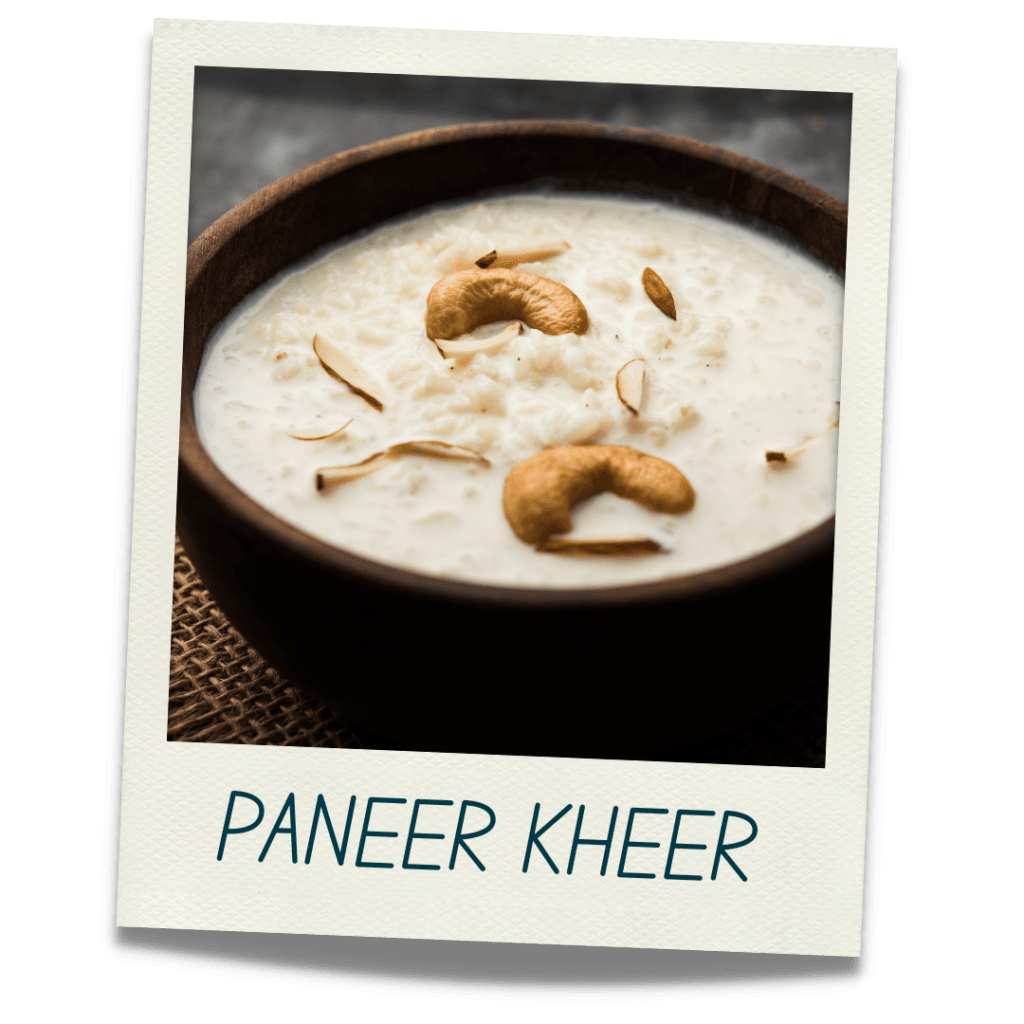 In a pan, heat the milk and cook over medium heat for 5 to 6 minutes or until it begins to boil, stirring from time to time. Leave aside to cool fully. 


After cooling, add cardamom powder and sugar substitute. 



Add paneer to it and mix well. Refrigerate at least for an hour and serve cool.
Oats Apple Phirni 
Oats have a low glycemic index, high in soluble fiber which helps in improving blood sugar control and reducing post-meal spikes. They are great sources of antioxidants, minerals, and vitamins. 
Apples have a low glycemic index and high fiber content. They are rich in antioxidants like quercetin which helps in cell protection. They are great for managing appetite and weight.
Ingredients:
Powdered oats – ⅛ cup

Grated apple – ⅛ cup

Low-fat milk – ¾ cup

Sugar substitute – ½ tsp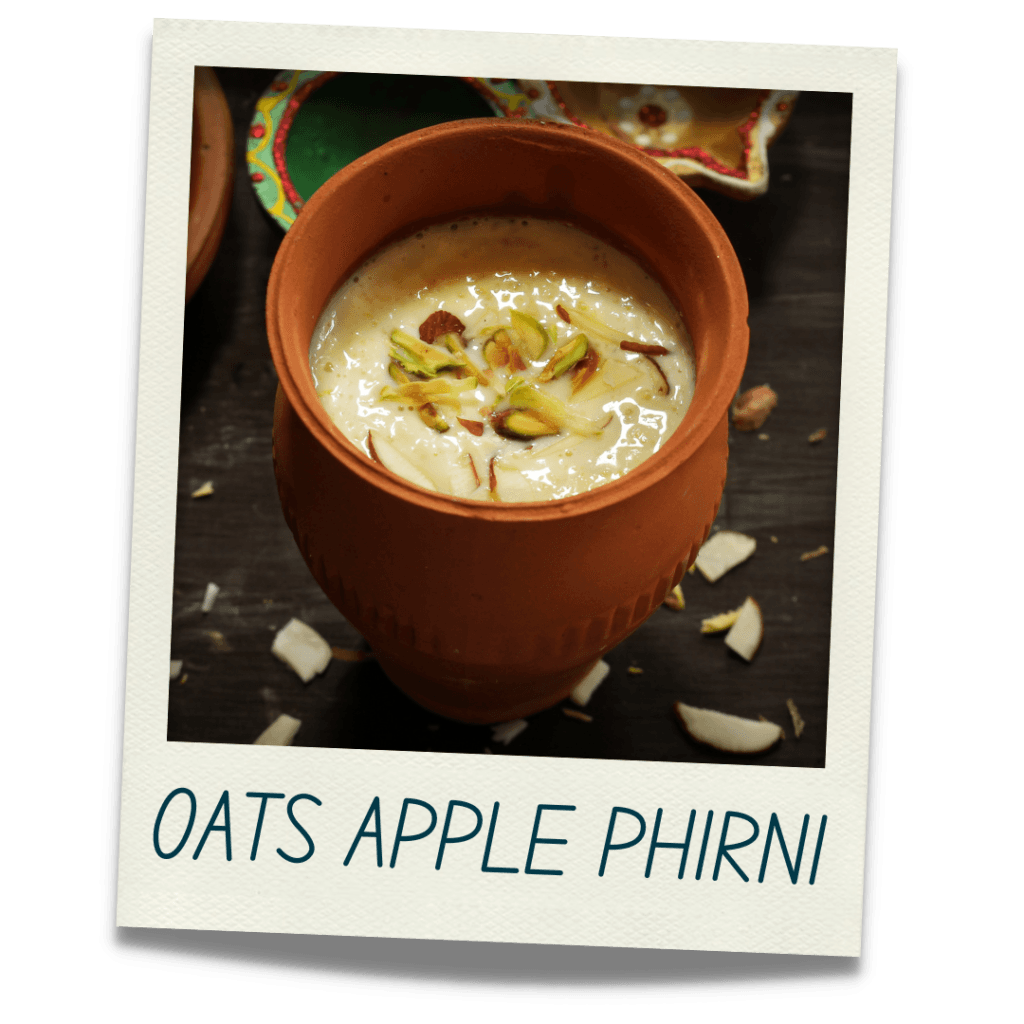 In a pan, heat the milk to bring it to a boil.


Stir in oats and simmer over medium heat for 2 minutes, stirring constantly. 


Turn off the heat, stir in the sugar substitute and set aside to cool a little.


 

After adding the apple pieces, stir well and refrigerate for at least 30 minutes.
Kripa N
Senior Clinical Dietitian, Simplyweight